Contemporary malls have evolved to become as much about experiences as they are about buying things: We visit shopping centers to acquire items, but also to enjoy delicious meals, watch movies, join exercise or hobby studios, and more. tep into a shopping mall in China, and you'll find not only that retail spaces are smaller, but also that more spaces are taken by restaurants, playgrounds, training or hobby schools, contemporary art exhibition spaces, and the like. Online platforms cannot duplicate these personalized, immersive experiences with human touches; for that reason, pop-up stores are currently becoming more popular, and setting new retail trends in the process.
Pop-up stores are usually temporary booths in public areas or limited tenancies within large shopping malls, opened to showcase brands or products, and enable consumers to experience offerings rather than simply buying them. In 2003, marketing firm Vacant opened a pop-up store for Dr. Martens shoes in New York, now recognized as the world's first pop-up store. The store's sales performance turned out to be very impressive, inspiring marketers to explore additional possibilities for this new type of retail location.
Since then, pop-up stores have become prominent in the United States and Europe, especially in the United Kingdom. According to a 2015 report on Britain's Pop-Up Retail Economy, there were 10,000 UK pop-up stores from various industries in 2014, contributing approximately £2.6 billion (US$3.6 billion) to the economy, and representing 0.6% of the country's entire retail industry. Now the British pop-up industry increases annually at a rate of 8.4%, around 2.5 times that of the normal retail industry.
In China, pop-up stores are advancing at a rapid pace. According to a whitepaper on China's pop-up industry ,  the stores collectively generated sales revenues of 320 billion yuan (US$49.58 billion) in 2020. It is expected that by 2025, their sales revenues will exceed 800 billion yuan (US$123.9 billion), with an over 21% compound growth rate.
Pop-up stores in China are different from those opened overseas, where pop-ups are commonly located outdoors in public squares and beachside areas. According to RET's Pop-up Retail in China Report, around 65% of pop-up stores in China are opened in shopping malls, as many brand owners believe shopping malls attract more consumers.
New features are being introduced in China's pop-up stores. Historically, consumers would show up and look around pop-up stores, rarely making purchases. The stores served as fancy event venues for product showcase events, attracting, engaging, and educating journalists, partners, and consumers. Today, pop-up stores have evolved into venues  for "experiential retail," giving consumers the opportunity to enjoy hands-on experiences and make immediate purchases. They also have the option to scan QR codes on the products and place orders online with a few simple taps.
The growth of pop-up stores in China reflects broader retail and social trends within the country. As livestreaming is gaining prominence in China, more brand owners are streaming from their pop-up stores, as pop-ups are more flexible than traditional stores, and better equipped than typical livestreaming studios. As noted by   ), "social commerce is also gaining prominence in the Asia Pacific region. Brands are utilizing social media approaches, such as live streaming, gamification and online influencers, to engage and sell to consumers."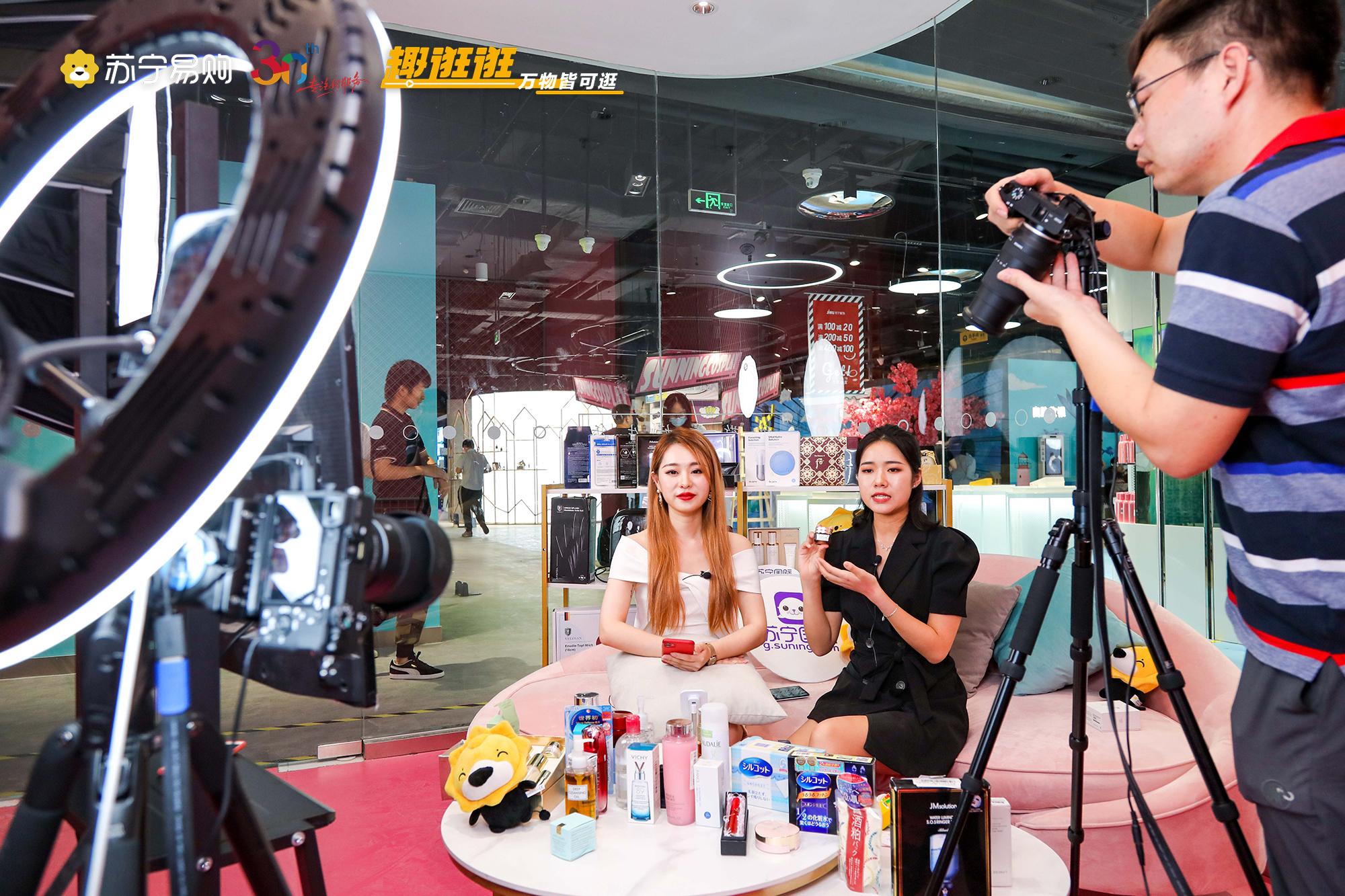 Photo:Live-streaming studio at Suning.com Xuzhuang Plaza in Nanjing
"For example, Chinese e-commerce retailer Suning.com partnered with [China's version of TikTok,] Douyin for branded livestreams, where users can make purchases without leaving Douyin. For Suning.com, the collaboration grants access to Douyin's young and fast growing consumer base and provides insights on consumer preferences and media consumption behavior to adapt their offering and engagement strategies," said Melody Jia, General Manager of Suning International. For Douyin, the partnership leverages Suning's supply chain and delivery capabilities to enable efficient online shopping.
Suning has been innovating new pop-up store experiences, as it believes pop-ups will be significant in the retail landscape during the post-pandemic era. On December 31, 2020, Suning's premium retail service platform Sup's partnered with British artist Emily Forgot to open a unique collaborative pop-up store in a shopping mall located in Nanjing.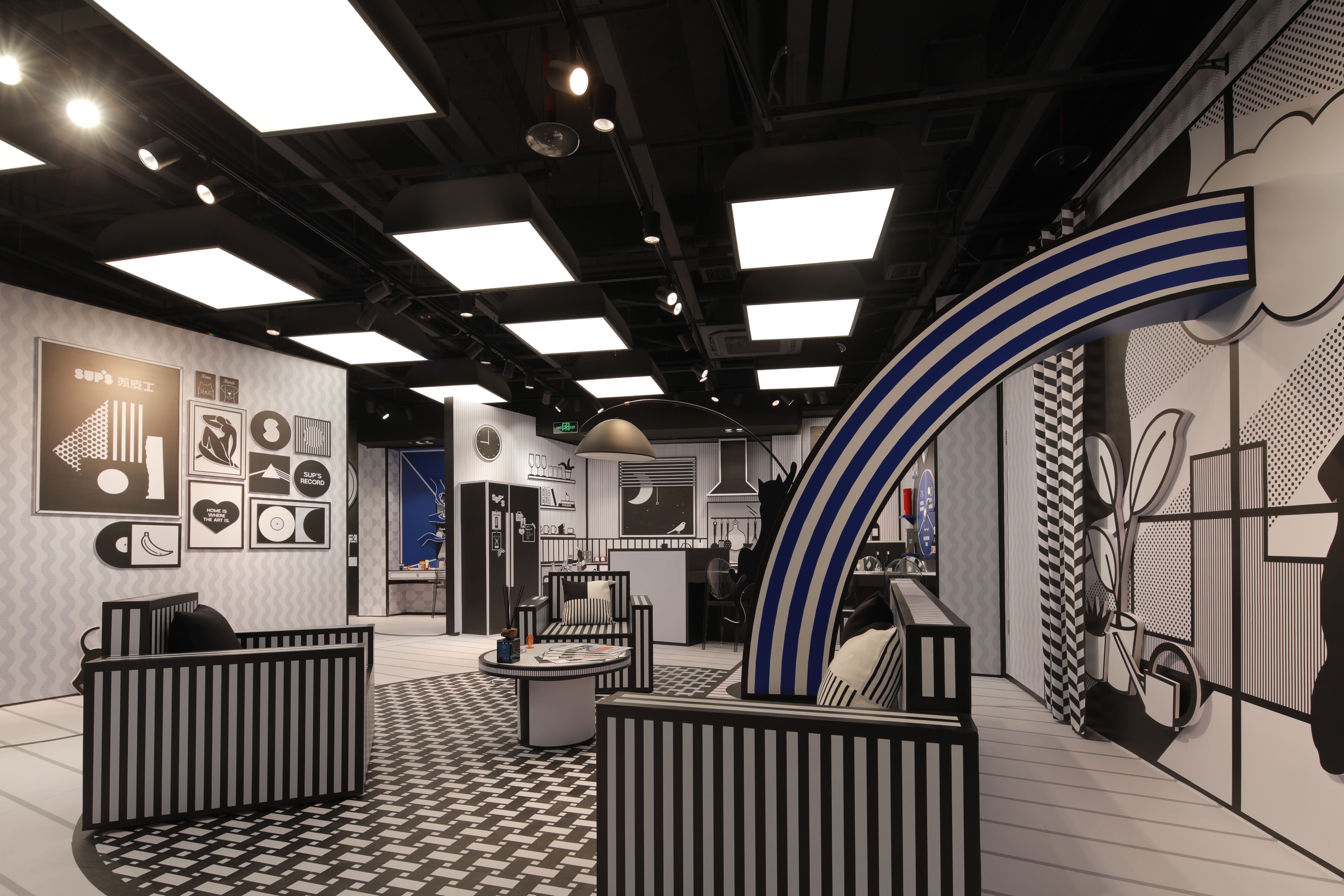 Photo:Inside view of Sup's pop-up store in Nanjing
Sup's mantra is "it's up to you," embodied by a focus on four major verticals: clean beauty, organic F&B, craftsmanship, and east-meets-west styling. The mission of Sup's isn't just business — it's also about spreading happiness.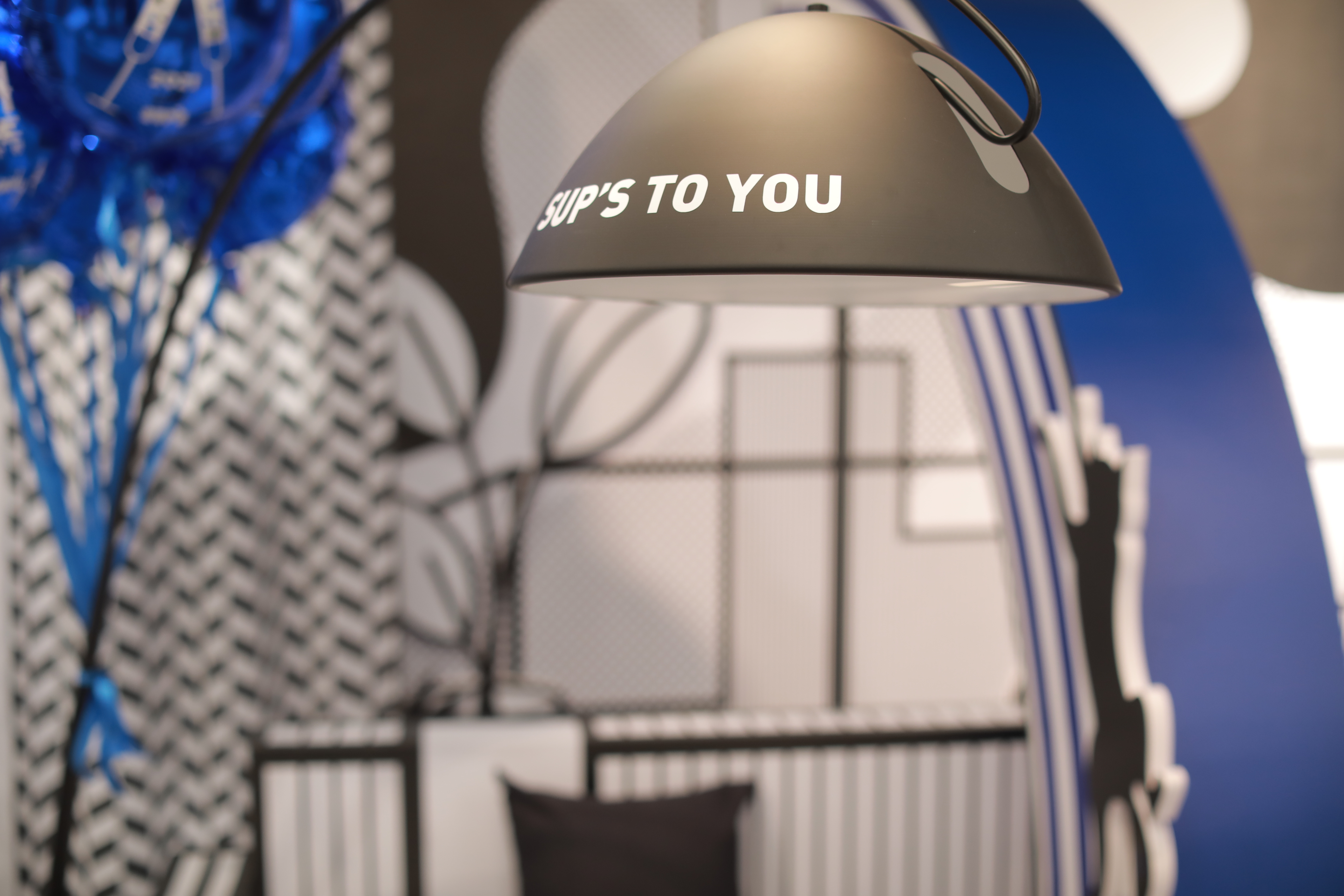 Photo:Sup's pop-up store in Nanjing
The new Sup's pop-up store aims to create a new immersive experience combining furniture and art. It provides visitors with access to innovative products from all over the world, and seeks to illuminate the true meaning of "home" on a global scale. The 215-square foot space is designed ase a cozy "home" with a kitchen, a sitting room, and a living room displaying products from around the world: red wine and mokka kettles from Italy, beauty products from South Korea, and aromatherapy items from Japan.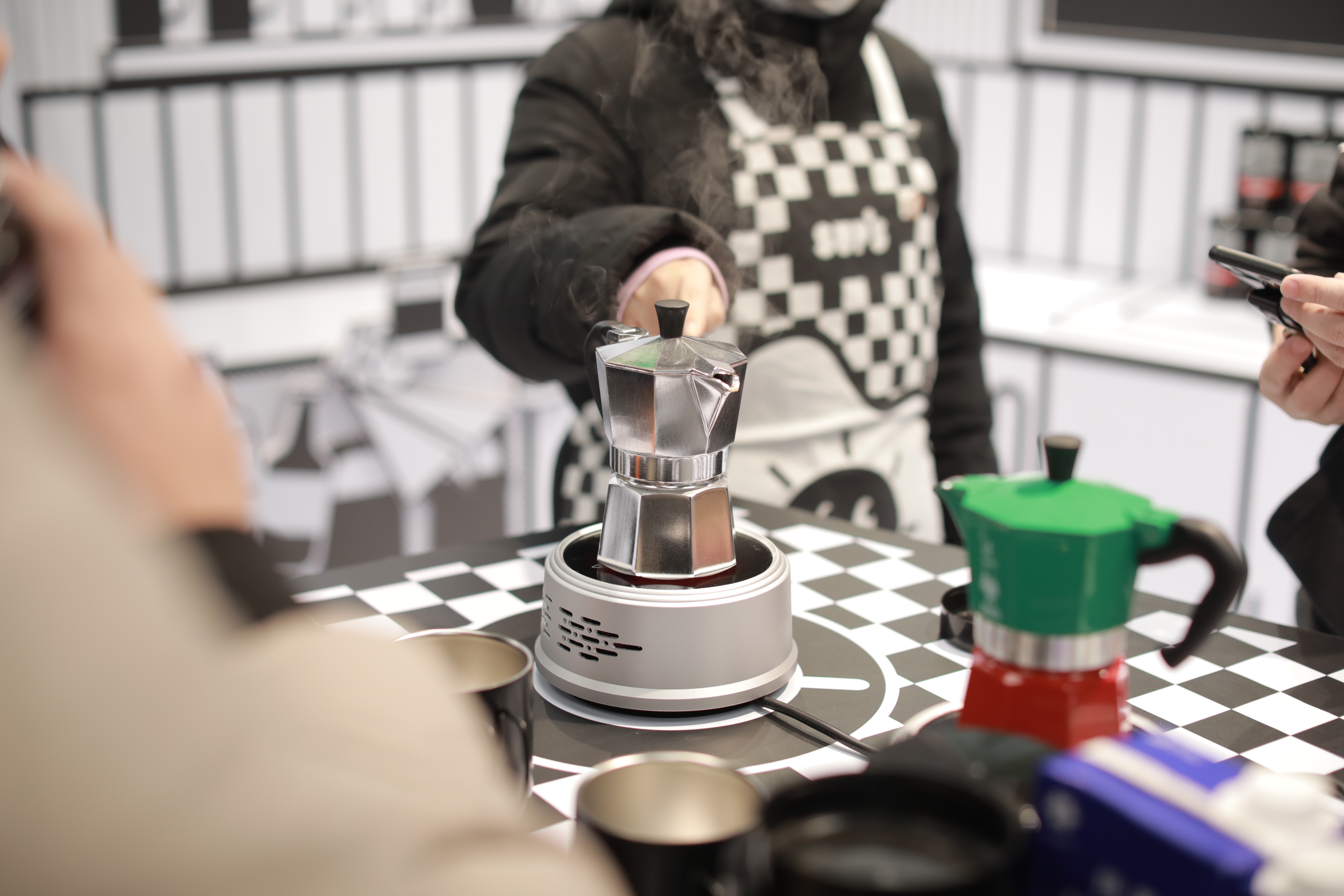 Photo: A mokka kettles from Italy exhibited at Sup's pop-up store
It's a retail space where consumers can scan QR codes attached to products and jump to online shopping platforms. And it's a leisure space, letting visitors enjoy taking beautiful photos, as well as sipping wine or coffee at a small bar inside the store.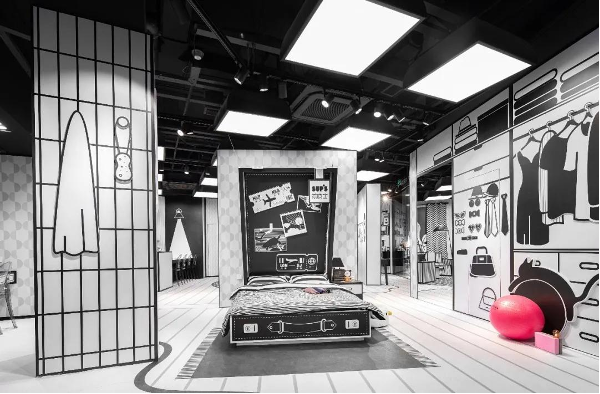 Photo: Bedroom of Sup's pop-up store
"We found that retail spaces are no longer just for shopping," Jia said  "Customers increasingly demand leisure activities, too: cafes, book stores, and travel or comfort zones, including trendy places for relaxing, meeting friends, or taking selfies."
"As retailers," Jia added, "we are looking to make our retail spaces more trendy and cozy in an effort to give consumers an immersive experience. At Suning, we have different sizes of retail spaces: department stores, grocery stores, and convenience stores. We also have pop-up stores inside large shopping malls. In large retail outlets, we are redesigning the retail spaces to add more leisure spaces."
"Consumer-centricity is the deterministic trend from the past to the present and to the future." Guo Zengli, rotating chairman of the Asian Shopping Center Association and director of the China Shopping Mall Development Committee-wrote in the preface for the "White Paper on China's Pop-up Store Industry".  "Shopping malls have risen to the dominant position of urban commerce and become necessary in people's lives. At the same time, the penetration rate of e-commerce in all walks of life has increased, and more and more shopping behaviors are occurring online. The two waves seem to be opposite, but they are all providing consumers with a more convenient, richer and better shopping experience. The emergence of pop-up stores has identified the arrival of a consumer sovereignty era. Today, experience stores still follow the business logic of people looking for stores, and pop-up stores have completely entered the cutting-edge form of looking for people in consumer-centric stores."