With an ambition of opening 12,000 stores throughout the year 
NANJING, China, March 30 – Suning.com, the leading retail service provider owned by Suning Group today announced that it completed the goal of opening 600 Retail Cloud Stores in Q1 of 2021. In March alone, there were up to 120 stores opened in a single day. Earlier this year, Suning.com set its goal of 12000 retail cloud stores opened by the end of 2021. 
As an important business sector that aims to help micro and small business merchants thrive in lower-tier cities and county-level markets in China, Suning Retail Cloud was officially launched in July 2017. With the franchise model, Suning Retail Cloud leverages Suning.com's retail capabilities and deep industry know-how especially in logistics, warehouse, supply chain and technology innovations to franchisees and help micro and small merchants in county-level markets to easily start a business.
During the past year, Suning Retail Cloud has achieved significant growth amid the pandemic, with 8000 stores opened in total across the country. In the initial stage, Suning Retail Cloud stores are dominated by home appliances and 3C products. With the rapid growth and expansion of the business, Suning Retail Cloud has tapped opportunities in the home furnishing market in counties and towns, and "duplicated" the successful experience accumulated in home appliance stores for a long time to the home furnishing field. In March 2021, the first retail cloud furniture store opened in Jiangsu Province.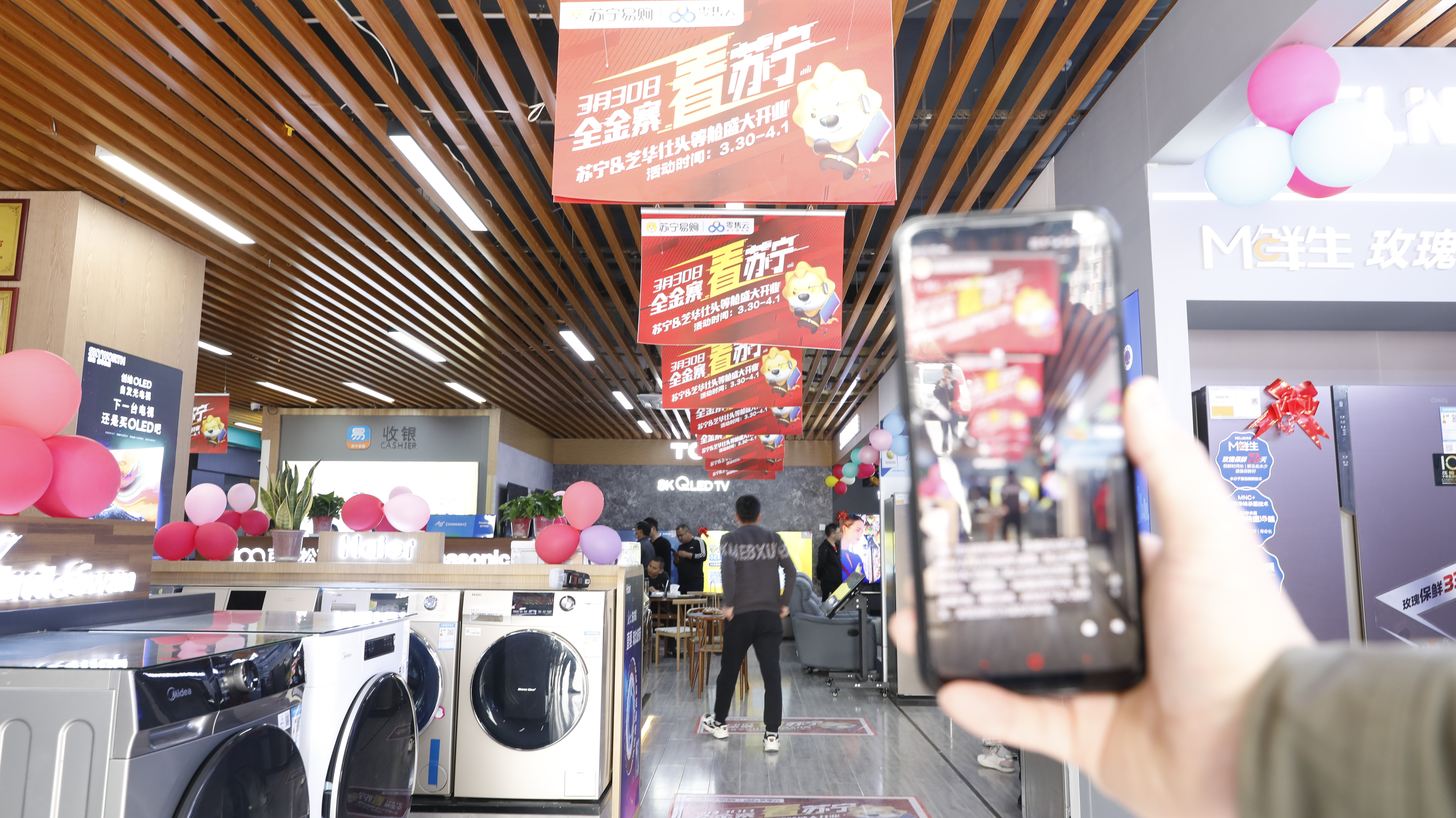 (A Suning Retail Store owner is selling products online via a livestream app, after receiving trainings from Suning on leveraging digitalized tools to attract more traffic.)
In China's lower-tier markets, the traditional "husband-and-wife shop" – a small store owned by family – faces the difficulty of not being able to build digital tools on its own while traditional brick-and-mortar stores are disrupted by e-commerce.  By leveraging its strong retail capabilities and modern, digitalized marketing tools, Suning.com empowers the digital transformation of such stores in an effort to help hundreds of thousands of micro merchants in China's lower-tier markets to thrive and prosper in the digital era. 
"Retail cloud links the dotted county and township stores into a networked retail cluster, and it is growing into a significant force in the industry " said Gu Wei, senior vice president of Suning.com, "it will deeply impact the county and township retail market in efficiency improving and user experience changing. I am confident in retail cloud to create a new benchmark in the market."