Nanjing, CHINA, Dec. 28, 2020 /PRNewswire/ — Suning Group ("Suning"), one of the leading commercial enterprises in China, Suning International, and Hainan Tourism Investment Development Co. Ltd. have signed a strategic partnership agreement. Both parties will leverage their respective advantages to focus on logistics, commercial real estate, tourism retail and other fields to carry out all-round and multi-level cooperation, to integrate various industrial chains, and aid in the construction of Hainan Free Trade Port.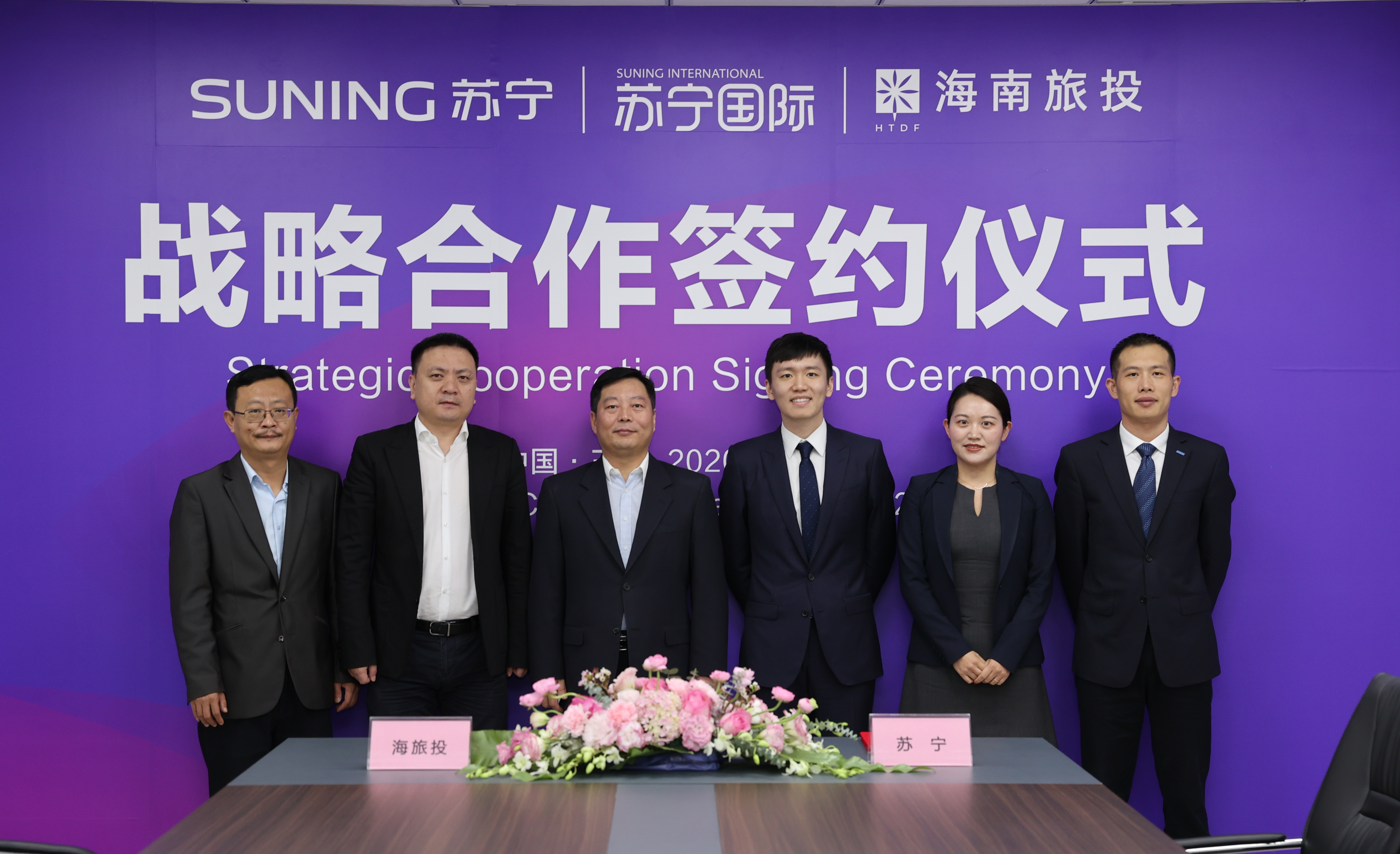 Above:  from left to right, Xian Guojiang, Director of the International Office, Hainan Tourism Investment; Xie Zhiyong, Chairman and General Manager of Hainan Tourism Duty-Free Goods Co; Chen Tiejun, Chairman of Hainan Tourism Investment; Steven Zhang, Vice President of Suning Group; Melody Jia, Strategy Director of Suning International, Suning Group, and Fan Huaiwei, General Manager of Hainan Suning.com
COVID-19 has distrupted the tourism industry and struck the retail market. As outbound tourists have returned substantially, the demand for shopping duty-free goods overseas has shifted to China.  Due to Hainan province's amiable tropical climate, the Hainan Free Trade Port has become an even more popular vacation destination for Chinese travelers compared to the pre-epidemic preriod. Also, the new Hainan duty-free shopping policy inaugurated starting from July 1 that lifted the annual duty-free shopping quota for individuals boosted Hainan's duty-free sales, which made Hainan an even more attractive alternative for shopping duty-free goods amid the travel restrctions, analysts said.
"Riding on the strong growth momentum of Hainan Free Trade Zone fueled by favorable policies, this strategic partnership has granted us a great opportunity to expand our cooperation and bring prosperity to the area by leveraging the global supply chain of Suning , as well as the company's rich experience and deep know-how in omni-channel smart retail and robust capability to offer premium customized experiential services," said Steven Zhang, Vice President of Suning Group.
Through this landmark agreement, we hope to bring more business opportunities to Hainan with our partner, said Chen Tiejun, Chairman of Hainan Tourism Investment Development Co., Ltd, "Together with Suning, we will further strengthen our cooperation and launch more projects in the region, making our respective contribution to the development of Hainan Free Trade Zone."
Prior to the signing ceremony,  Suning International visited the offshore duty-free complex that Hainan Tourism Investment will officially open in Sanya starting from December 30.